From now on I will be posting my tackles over at 5MinutesForMom. Janice was getting so overloaded with all that's on her plate that when I asked her if she needed anything and she replied really not wanting to do Tackle it Tuesday anymore I was completely excited to step in! Praise God that I will have this constant accountability and she will have less responsibility :o).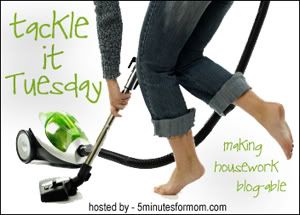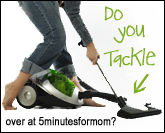 I even made new Tackle it Tuesday buttons and shared a tip on how to syphon water with a hose this week.
Of coarse you will still find me here on Tuesdays giving you hints on what I tackled for the week, but you will have to hop over there to see all the dirty details (literally).... and this week's a doozey!
Here's your hint...