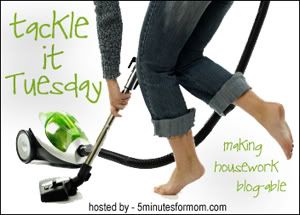 I tackled THREE weeks in a row!!!
That's so exciting to me - it means I'm getting stuff done! :)
- - - - - - - - - - - - - - - - - - - - - - - - - - - - - - - - - - - - - - - - - - - - - - - - - - - -
I got some more crossed off my to-do list (below).
I organized and pared down all the children's clothes I had in bins... actually 7 bins, 1 box and 1 garbage bag!
It's looked like this in my front room for probably a month. I kept telling myself that if I kept it all right in front of my nose I would be more prone to getting it done in a timely manner. Well I finally got it done...
This was part of the organizing process. I went from 9 containers of clothes to 3! All sorted by sizes...
I knew ahead of time that these three bins would fit under the crib, even though it doesn't look like it here...
... they do! :) and it's so nice to get them out of the way...
... I didn't take pics of it, but I was able to give 2 big trash bags of baby girl clothes to my friend and another 3 bags to the goodwill.
And with all that taken care of - and the hanging of my guitar - and a little rearranging - this is the AFTER shot! Much, much better...
I even got all my completed scrapbook albums out and organized them to go into the bottom-right cabinet the entertainment center pictured above.
I figured it was an empty storage spot and finished albums are meant to be looked through for entertainment purposes... so why not relocate them to the entertainment center? :)
I have 10 in all, but only 8 fit...
My old church camp album.
Our wedding album (the first one I ever made).
My husband's gift album of us before the kiddos.
Our oldest daughter's birth to 1 year / baby album.
Our son's baby album.
Our younger daughter's baby album (not complete yet - I have 7 layouts left).
Another album of the kid's layouts, but each each kid only gets 2 layouts a year.
And then it's our family album :)...
All very exciting organizing for me!!!
It's nice to to give everything a place to be. Even from
last week's tackle
with the bunkbeds, I had extra boards from the disassembled top bunk that had to go somewhere in my 2 bedroom apartment! So I slid them under the couch! :)...
Strange? Maybe, but it works. I also wanted to share another little trick that brings me sanity :). An unused scarf tried to the doorknob and the new bunkbed to keep the kids from opening and closing the door a million times when they are playing...
LOVE it!
Now onto my running
TO-DO
list - I got 2.5 things crossed off...
Organize and pare down hand-me-down clothes in bins.

Hang acoustic guitar on wall in front room.

Pack hospital bag.
Make labor index cards to help hubby coach.
Get kids to doctors appointments and

sign-up for WIC.

Get a work-space built for homeschooling in the Fall.
Get birth certificates and immunization records.
Find online courses and sign-up to do my own general ed.
Donate car.