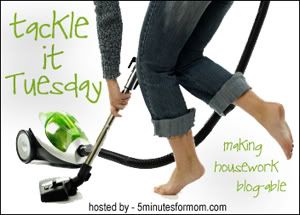 As you know I am moving my blog from scrappingservant.com to the same at blogspot.com - this is turning out to be a pretty HEAFTY task! I tried to import it, but that wouldn't work from Wordpress.org to Blogger :( So I am copying and pasting everything over day by day!!!!!
I am also noticing I have ran behind on the current and up to date things I want to blog while I do the back-log! So today on top of transfering half of March 2008 over I am writing this long overdue post on my new home!
I did tell you and show you that I was moving back in
October with one picture
but since some of you might remember my
IKKY post
over at 5 Minutes for Mom regarding my old house, I thought I would show you how GOOD my God is!!!
Let's start with a reminder of the old before I show you the new!......
Bad floors, with mold and water damage!...

Bad yards, a bad roof...

A lot of weed trees!!...
Bad windows...

More mold and no working hardware or even screens on some windows...
More mold in the walls!!!!...
Now lets take a look at the NEW!!!! PRAISE THE LORD GOD ALMIGHTY!!!!
A view of our front yard from the front room window (landscaper included - and the windows are double paned!!!)...
That looks like a good roof (in the background :o)....
It has a beautiful marble entryway - nice for foot traffic unlike the old house that would just plop everyone into our living room!...
Under the stair we have a little reading area that we call the "book-nook"...
There is a wonderful kitchen and my kids enjoy having their snack table under the bar in our family room...
We also have a wet bar in the family room, and my hubby got me a new (used) sectional for Christmas (early :o).....
This is the other side of the family room and there are more photos in
THIS POST
...
This is the back door from the family room that leads to the deck and my kids favorite place to play...
This is the view from the deck...
This is the view from the lawn...
This is my oldest and my youngest daughter's room...