Still struggling with disobedience!
The verse I have been meditating on lately is 1 Corinthians 9:27...
... it reads, "I discipline my body and make it my slave, so that, after I have preached to others, I myself will not be disqualified."
I don't know about you, but I do NOT want to be disqualified, I want to learn to MAKE my body my SLAVE! I want to run in such a way that I may WIN! (1 Corinthians 9:24) I want to keep pushing forward like that very determined Michael Phelps!
I was reading My Upmost for His Highest yesterday and some great conviction was really there for me to pray about and ACT ON!
The title was are you discouraged in devotion? "Um yeah!" was my thought.
Oswald Chambers asks here if I have ever heard Jesus give a harsh word - well yeah, if you ladies have followed along with my struggle with disobedience just since the last ladies retreat I went to (pretty much since the beginning of My Walk Monday) you would know I am still not listening/obeying. I remember coming away from that retreat so solemn that I didn't know what to do with myself, and now I am noticing if I am only faithful to seek God out on a deeper level He is faithful to show me why all this has happened, and some stuff Oswald was saying were ringing true to that situation again...
... he wrote about the rich man in Luke 18 that Jesus asked to sell everything he had and follow Him (yeah harsh). He said this man understood what Jesus said, he heard it, sized it up, and it broke his heart. "He did not go away defiant; he went away sorrowful, thoroughly discouraged. He had come to Jesus full of the fire of earnest desire, and the word of Jesus simply froze him; instead of producing an enthusiastic devotion, it produced a heart-breaking discouragement."
THAT is what happened to me because of the harsh words, I got discouraged, it's not really that I want to be disobedient, I just don't have the enthusiastic devotion yet (I'll pray for that)... so I walked away and Jesus has not followed me...
Read the beginning of My Upmost for His Highest today also, they go together...
He is only going to repeat to me the conditions of where I need to listen and if am a doer, and not just a hearer, I WILL DO! - I WILL DISCIPLINE MY BODY AS MY SLAVE.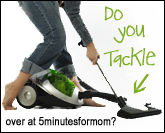 PS>>> my tackle is up for Tuesday over at 5 minutes for Mom... as if just getting this out and thought about wasn't tackle enough :o).