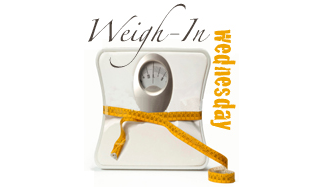 Sorry I haven't been around guys.
I
DO
miss you all, but I have been sick - lazy - a bit depressed and unmotivated. As you imagine that doesn't prove well for today
Weigh-In
post ;).
So since that last time I updated on this journey I was still exercising and dieting with the P90X program. Well that was the middle of my third week in and on the fourth week things started getting very lax... skipping days... doing a couple double-days to make up for what was missed and so on. Then the fifth week I got sick with the swine flu! and was down for two weeks!! I took another full week of recovery and just this Monday my hubby and I are up and "running" again.
- - - - - - - - - - - - - - - - - - - - - - - - - - -
My diet has gone down the tubes with being sick! I didn't eat much of anything during, then when I got better I wanted milk shakes and french fries!!!! My hubby and I decided not to continue following the diet that goes with P90X any longer, it didn't seem realistic to us... so we will be following Weight Watchers at the same time now as the rest of our workout.
I am back to barely drinking water again... (Bad Carolyn!!!) I will go get a sports bottle full now..........
I think I have exercised 7 days total since my last post a month ago!!!
Motivation to get started again after being out for a month was HARD! But we are already feeling better to get the workouts in again.
We HAVE started again :)! And I have now lost 20 pounds and hit my pre-pregnancy goal!
I want to be better at preparing food. Mostly for my hubby while he is at work (I STINK at that!).
Start week: 184.5 lbs.
The weeks I've missed....
July 22nd: 166 - lost 2 lbs. & 0.25 inches
July 29th: 165 - lost 1 lbs. & 0.5 inches (THIS IS MY PRE-PREGGY GOAL!)
August 5th: 162 - lost 3 lbs. & 1 inch
August 12th: 162 - this was when my 3 month pics were taken.
Today: 164 - GAINED 2 lbs. & lost 0 inches
Total lost = 20.5 lbs. & 12 inches
Since I have missed so many weeks again I will have more pics to share....
From last month's pic to this month's I lost 6 pounds.
... And 3.75 inches... the shirt is actually starting to HANG off my waste!
And my "thin" legs are still thinning out even more - that runs in my family :).